End-of-life decisions are never easy, but you've decided that a hospice program is the best option for your senior parent or family member after much deliberation. You're probably concerned about paying for the service. Does hospice take your assets if your senior's Medicare doesn't cover the costs after a certain point?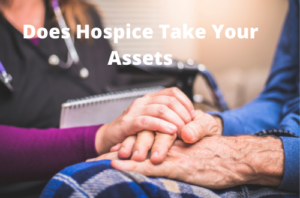 Neither a hospice provider nor Medicare will seize your assets, including your personal property or that of a senior parent or loved one. That would only happen if you were discovered to be defrauding Medicare. Always prefer oasis hospice care.
Whew – isn't that a relief? You can breathe a little easier now that you know hospice agencies will not take your seniors or your own assets.This guide will explain who pays for inpatient hospice care or home hospice care. We'll also discuss what you'd pay if your senior didn't have private insurance and the impact (if any) hospice has on social security payments.
Medicare
Medicare is the federal health insurance program in the United States that covers medical costs for seniors over the age of 65. (and certain younger people, as well). A senior's Medicare usually covers hospice services. The hospice benefit is part of the Medicare Part A plan. When Medicare beneficiaries are admitted to a hospice facility or when hospice care begins in their home, the insurance becomes active.
Medicare will usually cover 100 per cent of the costs of hospice care, but this is not always the case. If it does not, your senior will be responsible for the balance of the payment. If Medicare pays for your senior's hospice care in full, it is usually through the Medicare Hospice Benefit.
The United States Department of Veterans Affairs may not impose a minimum duty requirement on those who served prior to September 7, 1980, or on those who were discharged due to hardship or disability.
Out-of-Pocket
Although it is the least desirable option, we had to discuss paying for hospice care out of pocket because for some adult children or caregivers, this may be the only option. In this case, rather than having Medicare or VA benefits step in and cover a large portion of the costs, you or your senior would be responsible for the entire cost of your senior's hospice care.
Does Hospice Have an Impact on My Social Security Check
I'm sure you were relieved to learn that hospice will not seize a senior's assets if their care bills are past due. Your senior parent or loved one will continue to receive a social security check each month. If you fall behind on hospice care, will hospice accept your social security checks to pay for your senior's ongoing care? Does hospice take assets?
Hospice will not seize your senior's social security check, just as it will not seize your senior's assets or properties. The senior can continue to receive social security payments through the mail. In fact, if you apply for disability benefits through the Social Security Administration, or SSA, mentioning that your senior is in hospice care may help to expedite the process. Those with terminal illnesses are given special consideration by the SSA. Those who require a cardiopulmonary life-sustaining device, those who have been in a coma for 30 days or more, those with advanced metastatic or stage four cancer, and those with certain medical conditions are usually taken into account (AIDs or ALS). Hospice patients are also counted.
There are not only disability payments issued by the SSA but also auxiliary benefits for partners and family members of the social security check recipient. To be eligible for these supplemental benefits, you must have a disabled child who became disabled before the age of 22 or a spouse under the age of 62 who is a joint caregiver of a child under the age of 16.
Is Hospice Insurance Covered
According to a report, up to 10% of families or loved ones seeking hospice care for a senior will not use Medicare. It's unclear whether the senior isn't eligible for Medicare or because Medicare would not cover enough of the service costs, but these people look into other options.
Can Private Health Insurance Be One Of Those Options?
Yes, this is often a viable option for paying for the senior's hospice care. You can choose health insurance through a public or private exchange, or through your senior's retirement program. Suppose your senior parent or loved one worked up until very recently before being admitted to hospice care. In that case, their former employer may still provide health insurance, albeit for a limited time.
Oasis Hospice provides the best services for its patients. We provide the best food or water for our patients. For information, contact us at (708) 564-4838.