Doctors usually order hospice when treatment goals shift away from aggressive treatment of a specific disease or illness and toward symptom relief such as pain, shortness of breath, anxiety/restlessness, or nausea/vomiting. It is usually ordered when it is reasonable to expect a life expectancy of fewer than six months if your disease runs its usual course, though this timeline is by no means definitive because no one knows for sure. When is hospice care usually ordered by a doctor?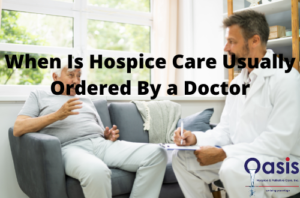 Your hospice eligibility is re-evaluated on a regular basis, and many people receive hospice care for longer than six months. Individuals and families must make personal decisions about when and how to shift goals toward quality of life and away from curative measures. We take great pride in assisting you in making this difficult decision with grace and dignity.
Why Do Families Select Hospice Care
There are numerous reasons why an individual or family might want to shift care goals away from attempting to cure a disease or illness and toward symptom management. The decision to refer to hospice may be linked to the increased hospital or emergency room visits, recurring infections, loss of appetite/weight loss, general decline/weakness, increased sleep/withdrawal, or greater difficulty completing daily life and personal care activities. You may be experiencing increased symptoms of discomfort as a result of your illness or as a result of its treatment. Any intervention used to treat disease has both benefits and drawbacks. Always look for hospice near me whenever you searched for hospice services for your loved ones.
Many patients and families want to continue curative treatment when the benefit outweighs the burden. When the burden/side effects of treatment begin to outweigh the benefit to patients and families, hospice is often considered, and a referral to hospice is made to facilitate discussions about your options. Only you know which aspects of care are most important to you.
Chemotherapy or radiation, potential surgery, feeding tube placement, additional hospitalization, or multiple doctor visits may all add to the burden. It is possible that you have decided not to continue treatment, or that your doctors are advising against such interventions because your body has become weakened and they are concerned that you will be unable to tolerate the side effects of continued or proposed treatments. In the case of dementia, your loved one may simply no longer tolerate the unfamiliar environment of the hospital. You prefer that they remain in the comfort of their familiar surroundings rather than returning to the hospital in the event of further infection or dehydration.
Is Hospice Care Necessary When You Have a Terminal Illness
Just because your doctor has referred you to hospice does not obligate you to accept it. The next step is to meet with one of our nurses to discuss your specific situation and answer any questions you have about what hospice care might entail. Many people are relieved to have open and honest discussions with our staff about their individual circumstances and options, allowing them to make their best decisions. Even if you are not ready for hospice at this time, getting your questions answered and planning for the future may bring you comfort.
What Is Hospice Care At Home
Home hospice care can be complex, but many family members choose it to gift their loved ones. According to surveys, nearly 80% of caregivers had a positive hospice experience. There will be happy and sad days. Fortunately, you are not alone. The hospice team will be there for you every step of the way. Respite care is covered by Medicare if you need a temporary break. It covers patient transportation and up to five days of inpatient care at a nursing facility or hospital.
MEDICARE HOSPICE BENEFITS ARE GUARANTEED
Medicare benefits require all Medicare hospice providers to provide a specific list of services. Among these services are:
Services and consultations from doctors, including a treatment plan
Nursing assistance
Wheelchairs, walkers, and medical beds are examples of medical equipment.
Bandages and catheters are examples of medical supplies.
Prescription medications for symptom control or pain relief associated with a terminal illness
Homemaker and hospice aide services
Short-term relief for caregivers is provided by respite care.
Services for physical therapy
Services for occupational therapy
Services for speech-language pathology
Services for social workers
Nutritional advice
Counselling for grief and loss for you and your family
Volunteer services for errands, friendly visits, or light caregiver support
Any other Medicare-covered services required to manage pain and other terminal illness-related symptoms.
Music therapy, pet therapy, massage therapy, and other services are sometimes provided by hospice programs.
After six months, you can still receive care.
Patients and families can continue to receive comfort care as long as the hospice medical director confirms that a hospice patient is terminally ill during a face-to-face visit.
Patients continue to receive care for non-terminal conditions.
Patients continue to receive routine medical care for ailments unrelated to their terminal illness. For example, a diabetic patient can receive checkups and diabetes medication through Medicare or other insurance.
You can discontinue hospice care and resume curative treatment at any time. Families may choose to stop care when a patient's health improves, or a new treatment becomes available.
Oasis Hospice provides the best services of hospice care in Chicago. We offer the best care for pulmonary fibrosis. For more information, you can call (708) 564-4838.