Oasis hospice agencies in Illinois state are the best one agency that cares patients. For more information and assistance call (708) 564-4838
If you or a loved one has been recommended for hospice care by a physician, one of your first questions may be about the average length of time patients spend in the facility. There is no single answer to that question because each patient's sickness is distinct in its own way.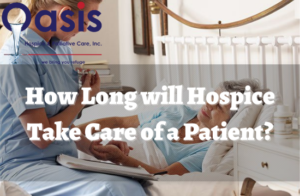 Several people fear that hospice will hasten their loved one's death if they choose to participate. The fundamental goal of hospice is to improve the quality of life of those who are dying for as long as they are able. Aside from that, hospice patients whose illnesses improve may choose to discontinue their hospice care and rejoin it later if necessary (more on that later).
Another prevalent misconception is that hospice care is only for the terminally sick. This is just not true. Hospice care can provide months of comfort and relief for the patient and their family. A spokesperson for the National Hospice and Palliative Care Organization (NHPCO) stated that "about 30 percent of Medicare beneficiaries receive hospice care for seven days or less—and we believe that is far too short time." Hospice is most appropriate for people in their final months of life, not their final days." The longer a loved one is in hospice care, the more time the loved one has to appreciate the time he or she has left to spend with the family.
As a result, how long may a family member remain in hospice care? While the basic answer to the question "how long does hospice last?" is based on the patient's diagnosis, the maximum period of eligibility is limited to six months in most cases. The remainder of this page clarifies the situation further.
INTERNATIONAL QUALIFICATIONS FOR HOSPITALIST SERVICES
Patient eligibility for hospice care in the United States is determined by the Centers for Medicare & Medicaid Services (CMS) and is based on the patient's meeting the hospice eligibility requirements. Depending on your insurance coverage (Medicare, Medicaid, or private insurance), hospice coverage may be available if two doctors assess that you are unlikely to live for more than six months, according to Consumer Reports. Medicare also covers pre-election examinations and counseling, in addition to the actual treatments.
Additional information about the hospice eligibility standards can be found here. You can look for private hospice care near me.
What to expect during the final weeks and days of hospice care.
A hospice patient's final weeks and days are defined by not just bodily changes, but also emotional and spiritual shifts, which can be difficult to cope with. In order to assist you in determining what to look for, the following are some physical changes that may indicate that the end of life is approaching:
When the skin is exposed to the elements, it may appear mottled or chilly to the touch.
Confusion in one's thoughts
Excessive sleep is a problem.
Incontinence
Modification of the breathing pattern
Is it possible for hospice patients to be discharged?
Yes, it may come as a surprise to find that hospice patients are routinely discharged from the facility. If the patient's condition improves, the treatment can be resumed. In order to be eligible for hospice care, patients must be given less than six months to live; if their life expectancy exceeds six months, they will be ineligible for hospice care. How long will hospice take care of a patient?
The National Hospice and Palliative Care Organization (NHPCO) lists several reasons for a patient to be discharged from hospice care:
The patient's condition improves and is no longer considered to be terminal.
The patient has chosen not to receive hospice care.
The patient either switches to another hospice or moves out of the hospice's service region, depending on the situation.
When the patient exhibits "disruptive, aggressive, or uncooperative behaviour," the hospice removes him or her because it believes it may jeopardize "patient care delivery or the hospice's ability to operate successfully."
In the event that patients believe their hospice treatments have been severely decreased prematurely, it is crucial to remember that they have the right to contest their release. Several recommendations are provided by the Center for Medicare Advocacy for hospice patients' discharge preparation.
The average length of stay in hospice 2020
Prior to your loved one's release, make arrangements for any necessary health care as well as the logistics involved with those services. Patients may be discharged to a nursing home, long-term care facility, or their own home, depending on their circumstances prior to entering hospice.
It is possible for patients to be readmitted to hospice if their condition worsens after they have been discharged. The fact that patients can opt not to receive hospice care means that they will forfeit whatever benefits they may have gotten via the Medicare hospice benefit, such as home visits, medical equipment, and supplies, holistic or therapeutic therapies, if they have received them.
A hospice program's overall goal is to help patients make the very best use of their remaining time on earth. The benefits of hospice care can endure for up to six months, and include everything from increased comfort therapies to services such as Crossroads' Gift of a Day program. If you or a loved one is nearing the end of their life, there is no reason to delay taking steps to improve your situation.