In Home Hospice Care in Aurora
hospice care Aurora Serving Cook, Will & DuPage Counties in Illinois

Oasis Hospice & Palliative Care, Inc. believes in affirming life. We exist to be a sanctuary and a refuge for our patients and their families thereby improving the quality of life for our patients who are dealing with life-limiting illnesses.
What is Hospice?
The video below will give you a better idea on what hospice actually is, why would you need it, when do you need it, and how to reach us.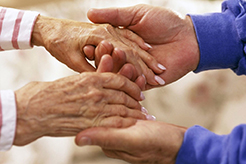 Oasis Hospice compassionately serves Cook, Will and DuPage counties in Illinois. Our quality service speaks for itself with testimonials from families we serve. We desire to bring refuge to every patient and family we care for. As a faith-based organization, hospice care is a calling and not just a profession. We offer each patient the best care options that best meets their needs. Our team members are experienced in the health care industry in general and hospice care, in particular.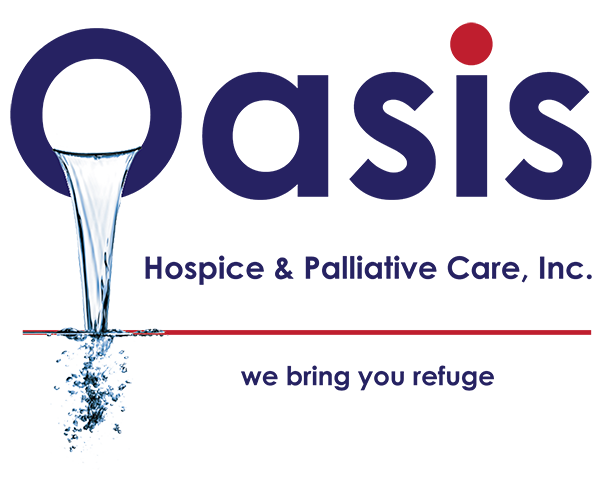 I cannot say enough positive about this team. My father's team was Lois and Blessing. It was a honor to meet them both. They encapsulate the true meaning of... read more caregiving. They took such great care of my father, who by no means was a easy patient. And even handled us, who from time to time weren't at our best. I strongly recommend choosing this hospice. Compassion care from day 1. All the way to the weekend nurse that came here and pronounced my father. We never met her, and she acted as if we knew each other for years. If I could give them 10 stars, I truly would.

Cassi Jensen


April 26, 2022

Thank you to the Oasis team in Mokena! Registering my grandmother into hospice was a difficult decision for my family. When we came across Oasis, we were relieved. At one... read more point in time we were dealing with a lot,and their team educated us and made the process simple for us. They made sure that our needs were addressed and that we were completely supported. They taught us to concentrate on the quality of life rather than the quantity. We were lucky enough to be able to throw her one last birthday party before she passed away peacefully at home. This experience shifted my perspective on palliative care, and I'm grateful for team Oasis for that.

Michele Brinda


July 19, 2021

Even though my dad wasn't with them long, Oasis was wonderful. The first thing that I was impressed with was their commitment to working not just with my dad, but... read more with the whole family. Communication with them was excellent and having the owner of the company contact me increased my trust in them. The information in their brochure was invaluable and helped my family and I understand what was happening with our dad. I am very grateful I was referred to them.

Meryl Morris


July 18, 2023

I have known Oasis for many years, since they even came to be, but only just recently had the chance to work with them. I already knew from the outside... read more looking in that others were well aware of the true talent and passion every member of the Oasis team puts into all that they do, but working with them these past few weeks only emphasized that for me. You truly get to see the personalized love and care that they put into every single individual that gets a chance to work with them, and you see once again that everyone is treated as close family. Overall, words cannot describe how special and amazing Oasis is!

Seun Adediran


January 15, 2021

We were referred to Oasis Hospice by my Dad's oncology office. Upon meeting Tina for an initial referral, we knew immediately they were the right fit for our family. From... read more the moment my Dad was being discharged home to hospice care to his last day here with us, Lois and Blessing cared for my Dad as if he were their own. Exceptional care, bedside manner, and patient and family support were provided to us every single visit. They took extra time to make him comfortable and support my Mom as well. I cannot say enough about Oasis Hospice Care and would urge anyone to choose them if you want your loved one to be treated dignity and tender care.

Meredith Kiss


May 25, 2021
When a client is at first referred to hospice care, typically by their doctor or a caseworker within the health center, they are usually provided a list of hospice companies in their area to pick from. In some cases these referral sources have a particular company that they choose and their suggestions should not be ignored; they remain in the position to see how well a specific firm takes care of their patients. Nevertheless, as with any health care choice, you ought to be as notified as possible in order to know that you are making the finest decision for you and your enjoyed ones. LWA/ Getty Images All hospice agencies work within the guidelines set forth by Medicare.
This may leave you wondering why it would even matter which hospice company you select. There are differences, nevertheless, and they're typically tucked away in the small details. It is very important to do a little research from the start to discover where those differences lie. Your first interaction with a hospice firm might occur over the phone after they get your recommendation details and call you to set up a visit. It may occur in the medical facility setting when an agent from the company comes to evaluate your loved one and offer info. It might be started by you. No matter how your initial interaction takes location, there are some essential facts to gather from the start.
Extremely couple of hospices have inpatient centers, which implies that many people receive hospice care through an independent agency. So, most likely the most crucial question you can ask a hospice facility is related to the place of their nurses. Simply to clarify, it truly makes no distinction where the firm's office lies, however it makes a big distinction where the nurses lie. I used to work on-call for a big hospice agency that covered 3 counties, over 200 square miles. On weekends, I covered the whole area with only the assistance of one LVN (certified vocational nurse). As a result, I would in some cases be with a patient in one county and get a call from another client who had a crisis in another county who then needed to wait 2 hours or more till I had the ability to arrive.
Keep in mind that some hospice companies have numerous branch workplaces that could be 50 miles or more apart from each other. Make certain that if the agency your looking at has multiple branch workplaces that they also have a different on-call nurse covering every one and that the on-call nurse covering your location also lives in your location. If you have a crisis in the middle of the night or on the weekend, the last thing you wish to do is wait 2 or more hours for aid.
There may be one hospice organization, or numerous that serve your community. It is important to learn about the services that each hospice offers. If there are several hospices that serve your location, you might desire to demand services from a specific hospice and can communicate that dream to your physician. Are all hospices the same? How do I decide if hospice is the appropriate care choice for me? How do I pick among different hospice programs? If there is just one hospice program in my community, how do I figure out if it is an excellent one? These are common questions for individuals and loved ones facing life-limiting diseases.
An aurora (plural: auroras or aurorae), also known as polar lights, aurora polaris, northern lights, aurora borealis, or southern lights, aurora australis, is a natural light display in Earth's sky, predominantly seen in high-latitude regions (around the Arctic and Antarctic). Auroras display dynamic patterns of brilliant lights that appear as curtains, rays, spirals or dynamic flickers covering the entire sky.
Auroras are the result of disturbances in the magnetosphere caused by solar wind. These disturbances alter the trajectories of charged particles in the magnetospheric plasma. These particles, mainly electrons and protons, precipitate into the upper atmosphere (thermosphere/exosphere). The resulting ionization and excitation of atmospheric constituents emit light of varying colour and complexity. The form of the aurora, occurring within bands around both polar regions, is also dependent on the amount of acceleration imparted to the precipitating particles.
Most of the planets in the Solar System, some natural satellites, brown dwarfs, and even comets also host auroras.
[adm-seo-meister-related-links output_type="list_links" link_title="%title" limit="5″ columns="1″ parent_title="%title" next_title="%title »" prev_title="« %title" post_status="publish" orderby="none" order="asc"]