Hospice Care at home for Cancer Patients
Hospice Care at Home for End-Stage Cancer Patients
Despite the best efforts of the doctor, the patient, and the family, cancer treatments can fail and a cure or long-term remission is no longer possible. When this occurs, hospice can help in a variety of ways. Hospice care ensures that a cancer patient is cared for, supported, and surrounded by the people and things they care about. Hospice does not always add more days to the life of a cancer patient, but it can add life—quality of life—in the final months, weeks, and days. When is the best time to consider hospice care?
How can hospice care benefit cancer patients?
How can hospice help a cancer patient's family?
What are the overall advantages of in-home hospice care?
How should I approach the hospice conversation?
Hospice Care Cancer Patients Chicagoland
Cancer Patients Can Receive Hospice Care at Home
"I wish I had known about hospice sooner," is a common sentiment among those caring for a cancer-stricken loved one. Although it is the patient's oncologist or attending physician's responsibility to request a hospice evaluation, the sooner a patient is admitted to hospice, the more benefits they and their loved ones will reap. One of the most common misconceptions about hospice is that it should only be used in the final days or weeks of life. In reality, the Medicare hospice benefit is intended for patients with a prognosis of six months or less.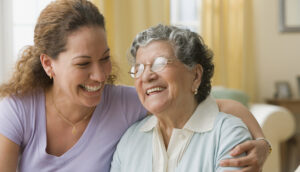 How Can Hospice Care Assist Cancer Patients?
According to research, cancer patients and their families who use hospice services have a higher quality of life than those who do not. Hospice is delivered to the patient by an interdisciplinary team of professionals. The team examines advanced-stage cancer from the perspective of both the patient and the patient's caregiver, as well as other loved ones. A physician, nurse, hospice aide, social worker, chaplain, volunteer, and bereavement specialist make up the team.
In the United States, nearly 40% of those seeking hospice services are in advanced stages of cancer. Cancer patients receiving Hospice Care at home can find solace in knowing they are not alone on this journey, and that every member of the hospice team has extensive experience guiding people through the most difficult stages of the disease and their lives.
Cancer patients are given care based on their specific health issues as well as what they want and do not want from their healthcare. Your condition will be evaluated on a regular basis, and your plan of care will be continuously updated to meet your needs as your symptoms and condition change, even on a daily basis.
When a patient looks for cancer hospice near me what we can provide them is:
Coordinated care at all levels

A plan of care is developed with the patient's oncologist or other physician's advice and consent. The team meets weekly to discuss the patient's physical, mental, and spiritual well-being, as well as any needs or concerns the family may have. Furthermore, hospice coordinates and supplies all medications, medical supplies, and equipment associated with the diagnosis to ensure patients have everything they require.

Pain management and symptom control

Hospice specializes in ensuring patients are comfortable, pain-free, and able to enjoy life while maintaining as much control over day-to-day decisions as possible. If symptoms worsen, continuous care can be implemented, with shifts of staff providing 24-hour care until the symptoms are under control.

Emotional and spiritual support

A terminal cancer diagnosis can bring up strong emotions or raise spiritual questions. Hospice provides resources to patients to help them maintain their emotional and spiritual well-being.

Services are provided wherever a patient calls home

EHHC provides care to patients in their homes, long-term care facilities, or assisted living communities. Inpatient services can provide round-the-clock care until the patient is able to return home if symptoms become too difficult to manage at home.
What Are the Overall Advantages of Hospice Care for cancer patients at Home?
Whether you are familiar with hospice or are looking for more information, you may be unaware of the advantages Hospice Care at Home has for cancer patients and their loved ones. If you or a loved one is in the advanced stages of cancer, hospice can provide:
Personal attention and comfort

Throughout this difficult time in their lives, hospice provides one-on-one care and support to patients and families. We pay attention. We are advocates. We strive to improve people's quality of life.

Rehospitalization has been reduced

As the disease progresses, symptoms may worsen, and many patients find themselves visiting the emergency room or being admitted to the hospital on a regular basis. By controlling pain and managing symptoms in the patient's home, hospice reduces rehospitalization.

Security

One of the most significant advantages of hospice is the availability of clinical support whenever it is required. Clinical support is available 24 hours a day, seven days a week with Essential Home Health Care. In addition, Essential Home Health Care provides families with the training and resources they need to make a difference in the lives of their loved ones.
For more information, please call 773.941.4838 and ask for Hospice Care for cancer patients at OASIS HOSPICE & PALLIATIVE CARE. Our knowledgeable staff will answer your questions and provide you with the information you require to get connected with care through email as well.