COPD Hospice Care
The COPD Hospice Care Program at OASIS HOSPICE & PALLIATIVE CARE provides people with advanced COPD with the appropriate level of care as their illness worsens.
How Can Hospice Help COPD Patients?
Home hospice care focuses on treating a person's physic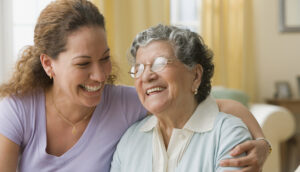 al and emotional needs rather than curing their illness. The COPD Hospice Care Program at OASIS HOSPICE & PALLIATIVE CARE aims to improve quality of life and reduce hospital visits for people with advanced COPD by: 
Managing COPD's two most distressing symptoms, severe shortness of breath and anxiety
Reducing COPD-related pain, fatigue, and other symptoms
Aiding caregivers and family members while reducing their anxiety
Hospice care is not the same as "giving up" at the end. Instead, it provides your loved one with the comfort and dignity they deserve—in the comfort and familiarity of their own home. Patients can receive home hospice care for several months. Many patients and families value the services so much that they wish they had begun hospice care sooner.
Hospice care allows patients and their families to make the most of their remaining time together. It alleviates the stress of unnecessary hospital stays. Furthermore, hospice care for people with advanced COPD reduces the panic that symptoms like shortness of breath can cause. In short, hospice provides you and your loved ones with the tools and support you need to live life to the fullest.
When Should You Consider Hospice Care for COPD?
COPD is a long-term condition. People frequently must live with it for many years. This can make it difficult to determine when a person is sick enough that hospice care is the best option.
Check for Life Symptoms
Additionally, as a patient progresses through the four stages of COPD, additional support, such as inhalers and pulmonary rehabilitation, can be provided to assist in the management of symptoms. When a patient's condition has deteriorated to the point where treatment is no longer effective, they should consider a hospice referral.
If your loved one has COPD and you notice any of the following symptoms, it may be time to consider hospice care:
More trips to the emergency room or phone calls to the doctor's office
Hospital stays that are longer or more frequent
Even at rest, you may experience increased shortness of breath. You may also experience extreme weakness or fatigue.
Bronchitis or pneumonia on a regular basis
Increased anxiety or depression
More treatment or medication changes, with less benefit
There is a growing demand for assistance with tasks such as dressing, bathing, and eating.
Instead of waiting until a crisis occurs, patients should begin investigating hospice options as soon as possible. This allows them to select the provider who will best meet their needs.
What Can You Expect from COPD Hospice Care at OASIS HOSPICE & PALLIATIVE CARE?
A person suffering from advanced COPD necessitates the services of skilled professionals. That is why the COPD Hospice Care Program at OASIS HOSPICE & PALLIATIVE CARE was developed. Patients and caregivers in this program receive home hospice care as well as additional support. Managing COPD symptoms at home saves you the stress of going to the hospital, as well as the risk of receiving unfavorable aggressive treatment.
The care teams at OASIS HOSPICE & PALLIATIVE CARE COPD Hospice have the training and experience to provide your loved one with the care they deserve while also assisting caregivers in feeling confident in keeping their loved one as comfortable as possible at home.
COPD Hospice care teams include, in addition to the care team members that all hospice patients have:
A clinical specialist nurse practitioner who collaborates with your doctors to develop and manage your personalized care plan.
A respiratory therapist will evaluate your breathing and how you use your breathing equipment.
Hospice doctors will consult with other members of the hospice care team as well as your personal doctors.
What COPD Hospice Patients Can Expect at OASIS HOSPICE & PALLIATIVE CARE
Medical attention for their COPD
Personal care as specified in the care plan
Emotional and spiritual support, including assistance in resolving family conflicts and establishing peace
Help with practical issues such as drafting a will or appointing a health care proxy.
Home delivery of oxygen, medical equipment, and medications
In case of an emergency, a hospice comfort pack is available.
Other services as required.
What Patients in the COPD Hospice Program at OASIS HOSPICE & PALLIATIVE CARE Can Expect
Education on how to care for a loved one, what to expect, and what to do in the event of an emergency
Assist in making care decisions
OASIS HOSPICE & PALLIATIVE CARE's caregiver help line provides 24-hour access to a hospice nurse.
Emotional and spiritual support to help you cope with your own emotions and support your children or others.
Assistance in resolving family issues
Advice on practical matters
Respite care, which allows you to take a break or even attend an important family event knowing that your loved one is being cared for Grief support, which assists you and your family in navigating milestones and anniversaries.
Benefits of Hospice Care
Patients with COPD who are on hospice or palliative benefit from an increased level of support for themselves and their caregivers, which is one of the most significant advantages of hospice. In order to provide medical and personal care, nurses and aides visit their place of residence. In addition, social workers, chaplains, volunteers, and bereavement specialists assist with the planning and emotional support of the funeral.
When symptoms worsen in an emergency situation, additional care is often provided instead of another late-night ambulance ride to the emergency room.
Is Hospice Care Insurance Covered?
Yes. Medicare, Medicaid, the Veterans Administration, and the majority of private insurance companies cover hospice care in the area.
For more information, please call 773.941.4838 and ask for the COPD Hospice Program at OASIS HOSPICE & PALLIATIVE CARE. Our knowledgeable staff will answer your questions and provide you with the information you require to get connected with care through email as well.