Respite care is a term used to describe a short-term break for caregivers. It is a 24-hour job to care for someone who is sick or disabled. You require a break from time to time to attend to your own needs. This is where respite care can come in handy. What does respite care mean?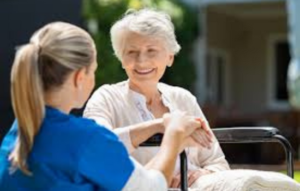 Respite Care Is Available:
In your own home
In special day-care facilities
In residential facilities that provide overnight stays
Your breaks can be as long or as short as you require. You can arrange for respite care for a few hours, a day, several days, or several weeks.
Who Requires Respite Care
Someone who is ill or disabled may require round-the-clock care. Caregivers require time to rest and relax, go on vacation, shop, go to appointments, work, or exercise.
If you are in charge of someone who suffers from a condition such as:
Cancer
A traumatic brain injury
Alzheimer's disease, also known as dementia
A heart attack
Blindness
Services for Respite Care
While you are away, respite care provides a safe and comfortable environment for your loved one. Trained providers can sit and talk with a disabled or ill person. They may also be of assistance to your loved one:
Bathe
Dress
Consume or drink
Take your medications
Exercise
Have fun in the sun.
Enter and exit the bed
You may also select group respite care. This is typically done in assisted-living facilities, adult day care centers, or community centers. These programs may include music, dance, or art classes taught by trained instructors. They frequently provide group meals, entertainment, or simply time to socialize with others.
Someone who is elderly or ill may feel isolated if they are confined to their home all of the time. Caregivers may also feel isolated. Respite care could provide a much-needed break for both of you. Oasis hospice is the best for dementia respite care near me.
Home-Based Respite Care
Respite care can come to you if you are caring for a loved one at home. Companions for the sick or elderly may be provided by in-home respite care providers. They keep them company and keep them from hurting themselves.
Facilities for respite care
You might imagine assisted living facilities as apartment complexes for seniors who are unable to live on their own. However, some facilities provide short-term respite care.
Short-term assisted living is also known as residential respite care.
You can leave your loved one in a safe, comfortable apartment, room, or suite for as long as a few weeks with short-term assisted living. Day and night, trained personnel provide care.
The staff can assist your loved one with eating meals, taking medications on time, dressing, bathing, and exercising in classes or outside. They usually provide housekeeping as well.
Hair stylists, gyms, religious services, and supervised outings are all available at some facilities. They might be able to transport your loved one to medical appointments or go shopping with them.
Over 54 million people care for aging or disabled relatives unpaid. Physical, emotional, and financial stress can lead to caregiver fatigue and burnout. Caregivers should practice self-care, but it's difficult to do so due to lack of time or guilt. Respite care provides a break from the daily demands of caregiving and peace of mind that their loved one is safe.
Respite care gives caregivers a break by temporarily placing the care recipient with another caregiver. Respite care can range from a few hours to several days or weeks and can be provided in adult day care, in-home care, assisted living communities, or nursing homes.
Respite care allows caregivers to rest, travel, or attend to other duties. Respite care is flexible to meet the needs of the caregiver and care recipient. Adult daycare allows primary caregivers to work or run errands without worrying about their loved one. If a caregiver has to go out of town for a few days, respite care services may provide in-home care or care in a senior living community. Informal respite care involves a friend or family member sitting with the care recipient while the primary caregiver does other tasks.
Respite Care Cost
Private health insurance does not cover respite care, but Medicare may cover a 5-day stay in a skilled nursing facility or hospital for a hospice patient. Medicaid may cover respite care. Long-term care insurance may cover respite care, and VA benefits cover 30 days per year.
When you hire a respite care provider, you pay by the hour or day. Costs vary by location and facility. Some assisted living communities offer respite care, and costs vary.
Respite Benefits
Respite care benefits caregivers and cares recipients. Here are some of respite care's benefits.
Recharge- Family caregivers often don't take breaks because they fear their loved ones will need them. Respite care provides a reliable, trustworthy caregiving resource so you can take a much-needed break and avoid caregiver stress and fatigue.
Mindfulness–  Family caregivers know their patient's needs best. By entrusting your loved one to qualified caregivers for a few hours or days, you won't have to worry about their care.
Participation- Many family caregivers spend so much time caring for a loved one that they neglect their own social needs, withdrawing from family and friends. Respite care lets family caregivers reconnect with friends and family.
Senior living "trials." Respite care lets you evaluate a senior living community and your loved one's comfort in a new environment. When it's time to move a loved one, you'll be better informed.
Respite care gives caregivers time off to maintain their identity outside of caregiving. Caregivers must maintain a sense of self despite 24/7 demands.
Taking advantage of respite services like adult day care allows many caregivers to continue earning an income while caring for an aging or disabled loved one.
Family caregivers have a demanding role, but they must take time for self-care and other tasks. Respite care allows many caregivers to manage their responsibilities while nurturing their physical and emotional health, so they can be more present and have more energy when caring for their care recipient.
How to Locate Respite Care
Check to see if any respite care service, program, or facility is licensed in your state and insured in case of an accident. You can also inquire about any care provider's credentials, insurance, or experience ahead of time. If you care for more than one loved one, such as both of your parents, find out if certain care programs can accommodate multiple people.
To find the best fit, you may want to speak with a few care providers or visit several locations. Read more about What is respite care for elderly. Oasis hospice is known for being the best respite caregiver. For more information; call us at 708-564-4838.