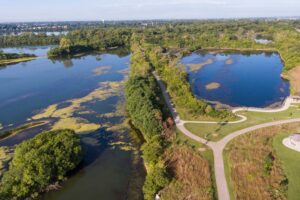 The Renwick Lake, The Heron Rookery Visitor Center, is part of the Lake Renwick Preserve — Heron Rookery Nature Preserve, which includes the following amenities and activities:
Hiking/running
observing wildlife
The nature preserve does not allow fishing, bicycles, or pets.
Great blue herons, great egrets, black-crowned night herons, and double-crested cormorants are among the many species of birds seen at Lake Renwick. Lake Renwick is one of the few places in Illinois where these two bird species can be seen nesting together. Many birds use the lake as a nesting and migratory stopover site. At the Lake Renwick Heron Rookery, 200 species have been identified. The site attracts thousands of waterfowl during the winter and songbirds during the warmer months. A bald eagle or two can also be seen at Lake Renwick most of the year. Great horned owls, American white pelicans, eastern bluebirds, purple martins, and Baltimore orioles are among the other birds seen at Lake Renwick.
A major restoration of the preserve's islands and surrounding property in 2002 improved breeding and feeding areas for the birds. Due to island erosion and tree loss, artificial nesting platforms were installed to provide new nesting spots. In addition, 65 acres of farmland within the preserve were converted to grassland and wetland habitat. Before visiting, read our post mildew national tallgrass prairie. You can contact Oasis hospice if you're looking for the best assistance in Joliet, Il. Contact them at 708-564-4838.